LaVerne A. Robinson: A 35-Year Legacy of Black Women's Leadership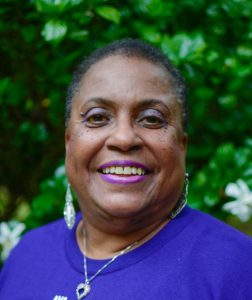 In 1986 I was a 33-year-old single parent and grandparent who was stressed out and emotionally and mentally in a crisis. I knew something fundamentally had altered me and I had to do something. Two significant life experiences caused my heart to hurt, be filled with disappointment and rage to the point of despair: My oldest daughter repeated the teenage pregnant cycle, birthing my first granddaughter. I walked off my job where I had personally experienced racism in the workplace. Now I had the increased responsibility of economically and emotionally supporting and nurturing three daughters and one granddaughter without a clue on how I was going to be able to provide all that they needed, with no job and no income.
I shut down emotionally and lost my voice. Thank God I had a cousin who noticed something had happened to me because I was acting different. She invited me and paid my registration fee to attend a retreat at Marin Headlands Institute in Sausalito CA, with all Black women, something she thought would help me. I took a huge risk – left my daughters and granddaughter for the first time and charged a bus ticket hoping it would be approved on an over the limit credit card. Even though I had emotionally shut down, I was silently praying and seeking help and a little voice inside of me said "go."
May of 1986, in walks LaVerne to a room of all Black women, my first Black & Female: What Is the Reality? Retreat. I did not know what to think and I certainly did not trust myself or this room of Black women because I didn't know any of them and past relationships taught me not to trust. The evening began, and Lillie Allen asked the question: What is your life really like as a Black woman? (which to me meant, what was really happening in my life). Oh my God, it was the first time someone cared to ask how I really was doing and the question went straight to my heart and spirit. The next thing I know I was wailing, crying, and hollering along with a room of Black women. I was accepted as the person I am, a Black woman and I was able to pour out all my stories no one else had ever listened to. Finally, someone consciously listened to me and cared about me, about who I was without any judgment or advice. For the first time in years, I felt like LaVerne again. For two and a half days, I poured out the stories of my life as a Black woman. I fell back in love with myself and I fell back in love with my Black sisters. I walked out of that Retreat a transformed woman. My mind was clear, my voice emerged, and I began to talk fluently. My heart felt much lighter because the rage, disappointment and anger lifted, releasing the despair. The "process" I had experienced at that Retreat, later called the Be Present Empowerment Model changed my life.
After that weekend Retreat, I was inspired to always want to "live" in the present moment, become a leader, an activist and community organizer. I committed to myself that I would always be a leader and part of my leadership included providing an opportunity for my family and all human beings to experience what I had experienced —The Be Present Empowerment Model (BPEM). At that Retreat, I began to experience, learn and practice Realm 1 of the BPEM, Know Myself Outside the Distress of Oppression and Realm 2, of the BPEM, Listen in a Conscious and Present State. This opened my sight and vision and I began to see the endless possibilities of opportunities for me as a Black woman and my family. Now, I knew my life dreams were possible!
I returned to my community and became founder of the Sacramento, CA chapter of the National Black Women's Health Project, the initial organization that held the first Black & Female workshop. I worked there for four years, organizing Black women around their health. In 1991, I decided I wanted to continue being a leader, activist, organizer and bring the BPEM to the wider world. So, I moved to Atlanta, GA and in 1992, I sat with a diverse group of women to help co-found Be Present, Inc. Together we co-created a Vision Statement that lives today.
I have been an avid activist, passionate organizer and tenacious leader inside the building of the Be Present, Inc. movement/community for the last 26 years of my 32 year, herstory. Currently, I am a fulltime volunteer, Treasurer, member of the Atlanta Sisters & Allies Leadership Project, the Black and Female Leadership Team of the first Black and Female Leadership Institute, Vision Based Social Change Fund Development Team, and in a peer-led Be Present Support Group. In addition, I am a former member of the Board of Directors, Board Development Committee and staff as a National Network Leadership Trainer.
I am a passionate, Black woman with a tenacious heart, grounded soul, big Spirit and I get to "consciously live my life in this reality." Hallelujah! I know I am Blessed and humbly grateful that I have been able to Build Effective Relationships and Sustain True Alliances, Realm 3 of the BPEM with other Black women for 32 years and part of a diverse, multigenerational group of wonderful human beings for 26 years. Together we have been shifting the world to be just, fair and equal for all, starting first with ourselves.
A Vision and Dream Come True!
This 35th Anniversary year marks the 5th year of the Black & Female Leadership Initiative and the completion of an 18-month Black & Female Leadership Institute. Institute participants and a diverse group of others in the Be Present network will be on the Leadership Team for the National Black & Female Leadership Conference, open to everyone, June 21-24 in Dahlonega, GA. Join us. In addition, we invite you to consider making a tax-deductible contribution to our Conference Scholarship Fund in appreciation for the 35-year legacy of Black Women's leadership.
---
LaVerne is a passionate Black woman with a tenacious heart, grounded soul, big Spirit and I get to "consciously live my life in this reality." Hallelujah! She has been both on Staff and a Volunteer of Be Present, Inc. for 32 years.