Collaborative Leadership Structure
Collaborative Leadership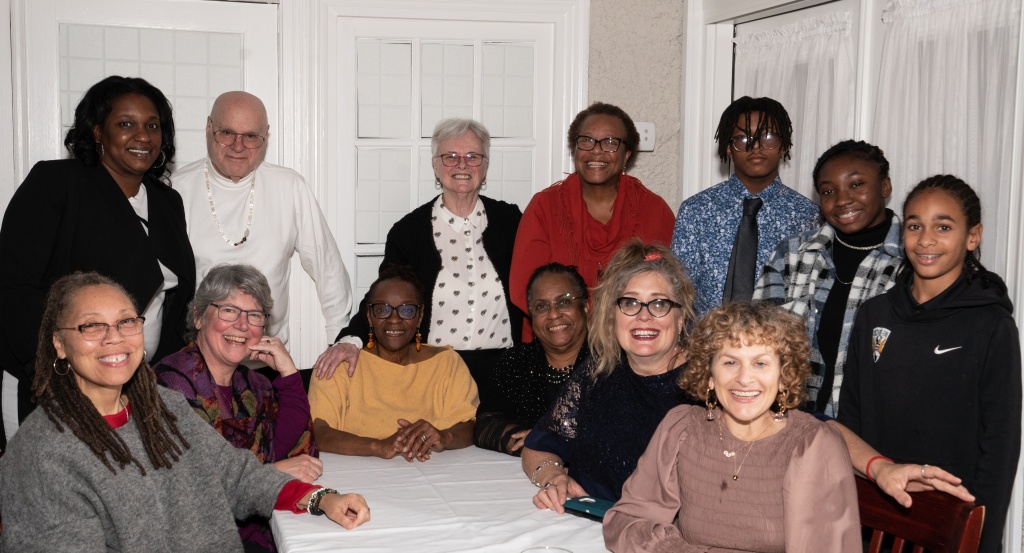 Board Meeting and 30th Anniversary KickoffBe Present's structure and decision-making processes emerge from our vision, mission, and values. Our organizational design is a web of inclusion, meaning that individuals work as partners to make a difference. In this process, flexibility and agility are critical; and strength emerges from the weave of our interconnectedness. Like a spider's web, Be Present's organizational web is both a structure and an ever-evolving process, constantly changing to meet the needs of our diverse communities.
Grounded on the commitment to social justice and the collaborative leadership principles of the Be Present Empowerment Model®, Be Present's web of inclusion supports each person to find their own voice, to address issues of all types – such as race, gender, class, age, religion, and culture – as they engage in shared responsibility, mutual accountability, and collective action.
This collaborative approach supports clarity of vision; opens avenues of communication and learning; builds just relationships; and ensures that all partners (board of directors, youth advisors, board buddies, staff, and consultants) work together in shared leadership to move the mission of the organization forward. !
Staff
Embraced as a management practice for 30 years and counting, Be Present's collaborative leadership model nurtures a sense of unity and shared purpose among staff, board and national network members – collectively, we are Be Present's movement partners. This collaborative practice, strengthened and realized through the use of the Be Present Empowerment Model®, supports movement partners to make effective decisions quickly, set and maintain the organization's core values, and strategically plan and achieve successes as a single, cohesive team. It is an organization-wide principle.
As is true in all social justice work, Be Present knows that any significant strategy, decision, activity or process exists in relation to a whole series of other relationships and interdependencies. Our internal leadership composition and structure is trust-based and grounded in just partnerships, which is directly linked to external impact. There is no distinction between Be Present's external organizational identity and our internal practices. Creating environments where systemic and structural injustices are openly addressed, and people bring their whole selves to the table, share and embrace diverse perspectives and ideas, and work collectively toward common goals are vital steps in sustaining transformation and innovation. Be Present is the world we are contributing to making for all people.
Board Of Directors
To be on the Be Present National Board of Directors, a person must be in a Be Present Empowerment Model® support group and have at least one year of experience using the Model in a collective decision-making process in venues approved by the Be Present Board of Directors.
Youth Advisors serve on the Board of Directors as advisors and integral partners in setting organizational direction and decision-making. At age 18, they transition to voting board members.
Board Committees - Community members interested in supporting the vision and mission of Be Present, Inc. are invited to join one or more standing board committees. These committees serve to train and orient future board members as well as to build individual and organizational capacity. Contact the Board Development Committee to learn more about joining a committee!
Vision-Based Social Change Fund Development Team
Budget and Finance Committee
Communications Committee
Information Technology Committee
Program and Evaluation Committee
Board Development Committee
Human Resources Committee
Historical Records Committee
Creativity and Play Committee